Des Moines Answering Service
Any company not using an answering service runs the risk of losing many potential customers. Answering services for Des Moines, WA businesses are necessary for any company, whether just starting out or long-established in the area.
ABS Communications, Inc. is the company you want to call for these invaluable services. Don't carry on with those automated responses; let us pick up your calls. Customers want:
A one-on-one conversation with a live person
Calls picked up quickly
Service available 24/7
Give your Des Moines customers call options that will keep them coming back to you. Hire our answering services.
Des Moines Phone Answering Service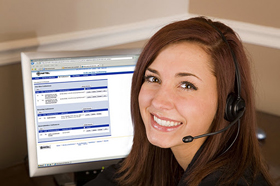 Are there phone answering service benefits for Des Moines business owners? Of course! If your customers can't get through to you, they are going to take their business elsewhere.
Probably to a company that does have a phone answering service! No matter what type of company you have, you never want to miss a call if you intend to stay in business. People don't want to be put on hold when they call.
They also don't want their calls to be ignored or listen to the phone ring endlessly. They expect certain things from your business, for example:
Not having to listen to annoying music while they are holding/not being placed on hold at all
Not having to press numbers or letters to be transferred
Someone who is courteous and professional
It doesn't take a lot to make your customers happy, and we can show you how to do just that when you consult with us about our phone answering services.
Des Moines Answering Services
Call us for answering services in Des Moines if you want to see a dramatic improvement in your business growth. Call us if you want your employees spending more time doing the job they were hired for.
Call us if you want to end the chaos of noisy phones ringing all day long. Yes, call us for all those things and more. Many of our business clients benefit from our answering services, as they are:
Are extremely affordable
Reasonably priced for all businesses no matter the size
Here to support your business - and to help it grow
Our company can help your business grow by leaps and bounds, improve profits and offer you peace of mind. All you need are our answering services!
ABS Communications, Inc. offers a whole range of answering services for the Des Moines business community. You can reach us at (206) 673-2427.