Redmond Medical Answering Services
Medical practices in need of medical answering services in the Redmond, WA area can get in touch with ABS Communications, Inc. We are one of the leading medical answering services in the area.
We offer medical answering services to existing patients, new patients and emergencies that call in. What makes our medical answering services special?:
All operators are HIPAA-trained
Our web-based calendar for easy scheduling
Live communications specialists
Emergency and after-hours services
Your doctor answering service needs the person on the phone to be courteous, professional, trusting and accurate. We maintain the confidentiality of your patients and provide exceptional customer service over the phone.
Redmond Doctor Answering Service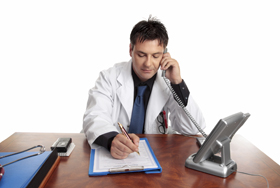 Doctors often need assistance to maintain schedules with their patients. However, if you are a doctor and do not have an assistant yet, you don't need to worry. You can always hire our doctor answering service in the Redmond community.
Our doctor answering service is managed by trained communication specialists and includes taking messages, meeting the needs of callers, taking down all information correctly and passing it on to the right individual.
Reasons to choose our doctor answering service include our:
Paging service
Emergency and call dispatch
Overflow call handling
Our HIPAA-compliant medical answering service is available 24/7 to deal with emergency situations. Our healthcare answering service has also incorporated the Onvi Guard Secure Message and Content Delivery system for even better security and stability.
Redmond Phone Answering Service
With us, you no longer need to depend on your answering machine. Opt for our phone answering service for your Redmond business and let us take care of your customer questions.
The phone answering service that we offer is one-of-a-kind because we answer any call in three rings or less. Moreover, it is a 24/7 answering service.
You cannot get any better phone answering service than this. Whether you have a small or big business, you can always count on our phone answering service in Redmond.
Our communication specialists are briefed on your business and will treat your customers with respect and care. Our phone answering service specialists can:
Route emergency and important calls
Set up appointments
Take messages
Answer questions
Call ABS Communications, Inc. at (206) 673-2427 to get HIPAA-compliant medical answering services in the Redmond area. Our 24/7 phone answering service will ensure all calls are answered right away.